Dumpster Rental Detroit MI
Dumpster Rental  in Detroit is easy and simple now,  you don't have to go anywhere else or call another company. Because WE HAVE THE CHEAPEST PRICES FOR DUMPSTERS! Our service is outstanding and same day service may be available. With our cheap prices, excellent service, and being a local company , this means it's a better deal for you. What more could you ask!
Low Prices for Roll Off Dumpsters in Detroit

"Detroit Dumpster" has been serving Southeast Michigan for many years and we know how difficult times has been lately. So, we want to do our part in giving a fair price for your next dumpster rental in Detroit and the metro area. Whether you live in Ann Arbor, Dearborn, Plymouth, or Grosse Pointe, let us help in your next rental. It may be a small project like a bathroom or a large undertaking like cleaning out a house, we can help. Therefore, we understand you need everything to run smoothly and have confidence your dumpster will be delivered and picked up on time.
DetroitDumpster.com is a local dumpster company. Most importantly, a locally owned and operated company means less headaches and if there is any questions they can be answered promptly. Also, a local and respectable company will be listed with the Better Business Bureau. In addition, read on below and this may help in any questions you have in renting a trash dumpster.
Dumpster Rental in Detroit, MI
Why You Should Rent From Detroit Dumpster Rental !!
1. We can answer any question you may have regarding the correct size rubber wheeled dumpster or roll-off dumpster.
2 . Rates are very competitive on our roll off dumpsters or rubber wheeled dumpster rentals.
3 . On time delivery and pick-up, which mean lower cost for less time on the job.
4 . Rubber wheeled dumpsters protect against any driveway damage.
5. Roll-off dumpsters sizes vary from 10 yard dumpsters to 40 yard dumpsters.
6. Detroit Dumpster is locally owned and operated, so if there is a problem we are close.
What you won't see with Detroit Dumpster Rental
1 . Hidden fees.
2 . Costly delays.
3 . Trashy dumpsters that look run down.
4 . Rude staff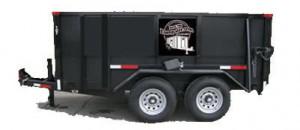 Dumpster Rental in Detroit services the Detroit metro area with rubber wheel dumpsters and roll off containers. Therefore, the proof is in the pudding with our dumpster rental service. With your next rental why not make it a good one and rent from a local Detroit dumpster company that's been serving Southeast Michigan for many years. And knows and understands what you need when it comes to renting dumpsters. Moreover, why not rent locally and keep the money in Michigan.
Dumpster Rental Detroit Reminders
Firstly, renting a dumpster can be a hassle free process and it should not be difficult and time consuming. Whereas,  you need to take some necessary steps in finding a reputable dumpster rental company. So the project or job your doing have cost overruns and headaches.
Secondly, it's always wise to schedule a dumpster delivery a few day before the day you need it. And it's also wise to rent a larger dumpster because it always seems you can find more than you were planning. Plus if some unexpected comes up you'll have the extra room.
If the dumpster is too small for all the debris you have you'll have to schedule another dumpster because the dumpster can not be overfilled. So, another dumpster means another cost for the dumpster, delivery, fuel, and rental period. As you can see why it's important to select the right size dumpster.
Choosing the right size container and type will save you money and time. As far as types of dumpsters, there are two types we carry. Rubber wheeled dumpsters and roll off dumpsters.
Although, the container can hold a lot of waste, you may want to be aware of how much weight is going in. Most dumpster companies have a weight restriction and if you exceed the limit there will a over tonnage fee. Remember, bigger the dumpster the more weight will be allowed.
Dumpster Rental Detroit Ideas
It's always a good idea to see if you will need a permit, so call your city to see.
If the dumpster is blocked and the driver can not pick up the dumpster, there will be a fee.
No concrete, dirt, brick, or yard waste is allowed.
If the dumpster is overfilled, as a result there will be a charge.
If the dumpster container is over the weight limit there will be a charge.
When The Dumpster Arrives
Have a spot cleared for the dumpster placement because when the dumpster arrives just tell the driver where you would like the dumpster placed. Keep in mind the roll off container can not be placed were there is overhead wires. It would be a good idea to rent a rubber wheeled dumpster, since it doesn't need as much overhead clearance.
If you renting a roll off dumpster you may want to place wood where the steel wheels are so the driveway doesn't get damaged.
What concerns you have  just ask the driver. And, if he can't answer your questions he can contact the office to get help.
Dumpster Rental Detroit at a Glance
Never rented a dumpster before? That's ok. Let us show you some basic steps to take.
First, always starts with choosing the dumpster company. We're here to help in making your first and hope many dumpster rentals a pleasant experience.
With Detroit Dumpster you never have to worry about the dumpster not being delivered on time. And when you're ready for the pick up just give a call and we can have the dumpster picked up the next day.
You don't to worry about any hidden fees, for instance.  All fees are inclusive and never any delivery or pick up fees. No fuel charge fees. One flat rate. The price we quote is the price you pay.
We'll help in choosing the right size container and the right type of dumpster to meet your needs. And let you know what you can and can not put into the dumpster. We carry 10 yard through 40 yard dumpsters for roll off dumpsters and 10 yard and 20 yard dumpsters for rubber wheeled dumpsters.
Still have questions? Just give us a call or contact us and we will be happy to assist.